WELCOME TO ART CENTER SALMELA
We are a summertime art gallery and cultural festival in Mäntyharju, Finland. Salmela's annual exhibition showcases visual art by recognized veterans of modern Finnish art as well as young, upcoming talent. The largest visual arts festival in Finland, Art Center Salmela welcomes you to the 34th annual exhibition 10 June – 13 August 2023. We are open from 11am to 6pm every day.
This year's exhibition will feature Björn Weckström, a world-renowned sculptor and jewelry artist, Raimo Utriainen, pioneer of Finnish modernist sculpture, the veteran modernist painter Jorma Hautala, and Art Center Salmela's Young Artist of the year, Juliana Hyrri.
Additionally, a significant portion of the exhibition will be reserved for the exhibition class of our sixth Young Artists Competition, open for Finnish and Ukrainian artists born after 1984. A jury will select the winner among the 10-15 artists in the exhibition class.
In addition to visual art, Salmela is the venue for a yearly series of concerts played at our own outdoor stage and inside the historic Mäntyharju church across the street. The 2023 concert schedule can be viewed here (in Finnish).
The setting for our exhibits is a stunning and historically significant cultural milieu. A mid-19th century parish house functions as the main gallery. Across the water, the exhibit continues in a lovingly restored old apothecary, postal office, and auxiliary buildings that offer a peek into the residential and commercial history of the area. Our waterside sculpture park, restaurant Kesäheinä, and collection of beautiful gazebos make up the rest of the extensive exhibition space.
VUOHIJÄRVI HOUSE OF NATURE AND CULTURE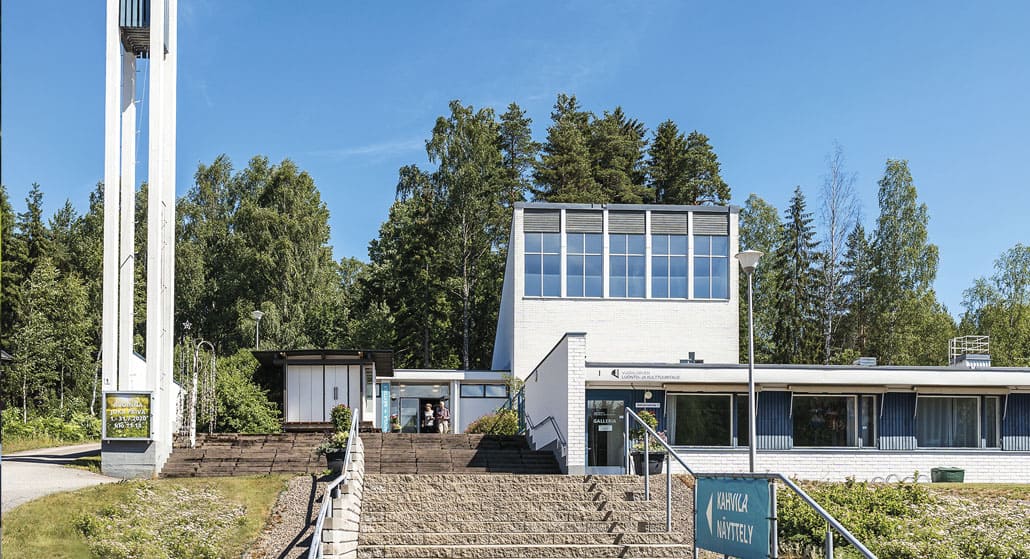 Our second location, the Vuohijärvi House of Nature and Culture, houses a large gallery, a gift shop, and a café serving the world's best cinnamon rolls. Right down the road from Repovesi national park, the exhibitions draw inspiration from nature – both local and universal.
The building, completed in 1966, originally served as a church. The serene space is a standout example of Finnish modernism in architecture and a great setting for displaying art. A beautiful sculpture garden is nested in the middle of the multi-level structure, offering a place to rest and reflect.
Opening times for 2023 are 11am – 5pm daily 10 June – 13 August. Admission: adults 8 €, students 5 €, children aged 7–15 4 €, children aged 0–6 free.
Riitta Nelimarkka | Hassuna 2
In 2023, the exhibition at Vuohijärvi House of Nature and Culture will feature professor Riitta Nelimarkka, an internationally recognized painter, filmmaker and visual artist.
Nelimarkka stands out in the canon of Finnish contemporary art through her use of humor, as well as the erotic and intellectual emotional charge emanating from her works. Fantasy, joy, and vibrant color are found throughout the oeuvre.
In a bid to convey the magnitude of her varied and long career, the exhibition will feature a range of media, from painting to printmaking and textile art to digital montage. The artist has curated the collection herself.  A selection will be on show at Art Center Salmela.
Pictured: "Gnome in Blue", photo montage, 2020.
LOCATIONS AND CONTACT INFORMATION
Mäntyharjuntie 25, 52700 Mäntyharju
A two-hour car ride from Helsinki, Art Center Salmela is located in the heart of southeastern Finland. You can also easily reach us by train: the Mäntyharju station is just a few kilometers away.
For more information on the town of Mäntyharju for travelers, click here.
Näkkimistöntie 1, 47900 Vuohijärvi
Be sure to also visit the Vuohijärvi House of Nature and Culture, a scenic 35-minute drive from Salmela.
Email: info@taidekeskussalmela.fi
Phone: +358 50 3388 114